23rd July 2017
CHOPIN 24 Etudes CD Launch Concerts!
23rd July 2017 (Sun) 3pm St Johns Smith Square, London (3 Etudes)
7th September 2017 (Thu) 7pm Kawai Omotesando, Tokyo, JAPAN
24th October 2017 (Tue) Spira, Jonkoping, SWEDEN
28th November 2017 (Tue) 6:45pm Caledonian Club, London, UK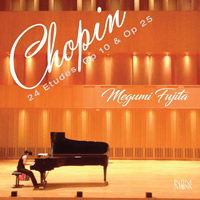 https://naxosdirect.se/labels/intim-musik-431

'Do listen to the CD in the record shop – and I am sure you will love Megumi Fujita's way of playing and her Chopin's interpretation.' P-G Bergfors
31st May 2017
A review of Megumi's Chopin 24 Etudes CD:
The greatest piano studies of all time.
As Frédéric Chopin was also a pianist, he studied the piano extensively. Unlike his friend Liszt, he, as a concert pianist, disliked large venues and big audiences. He preferred performing at intimate surroundings.One will recognize such differences when listening to the newly released CD (Intim Musik label) of Chopin's etudes op.10 and 25 performed by Megumi Fujita, widely known around the world as a chamber musician in a piano trio with her two sisters.
What I mean is, that these pieces are usually a showcase for how technically brilliant, strong, fast and skilled a young pianists can execute the Chopin's etudes. Fujita has totally different attitude to this, as shown from the very first Etude, op. 10 No. 1, in C major.
She has all the technique required of a modern pianist to play at any speed, but she refrains from getting praise this way. With wonderful touch and remarkably controlled dynamics, and perfect mix of the classical and romanticism born out of Chopin's heart (Chopin loved Mozart's music!), she takes the tempo at a slightly slower pace, with tenderness and butterfly's touch, thus drawing the music away from the earth shattering fast-paced virtuosi.
With the risk of misunderstanding, I would like to call Fujita's interpretation feminine in the very best meaning of that word.I cannot pick "best tracks" in this collection. Everything is so good. A personal musical favourite among them is Etude Op.25 No.1 in A flat major. Do listen to the CD in the record shop – and I am sure you will love Megumi Fujita's way of playing and her interpretation of Chopin.

Recording quality is of the highest standard as well as the photos, the booklet and the elegant notes for the music as usual from Intim Musik, is pleasure to the eye and contributes to the overall experience in the most favourable way.
P-G Bergfors
Translated from original Swedish
A review from Megumi's recent Piano Recital in Horsham,
October 2011
Stunning recital from Fujita that highlighted sensuous beauty and rich sound

Megumi Fujita, Horsham Music circle

HORSHAM music circle's 70th season continued on Saturday evening with a stunning recital at the Drill Hall given by Japanese pianist, Megumi Fujita.

Her programme opened with Beethoven's Waldstein Sonata with its vast developed first movement, followed by a restrained slow movement which leads straight into the triumphant rondo finale. It was played with flawless artistry.

Rachmaninov's Twenty Variations on the La Folia theme are wide-ranging in imagination, admirably concise and essentially romantic. They received a very fine performance, well paced with flamboyant technique.

Brahms's Three Intermezzos are much loved late romantic pieces which were superbly played with all the warmth, affection and peaceful contentment demanded within the music.

Le Tombeau de Couperin by Ravel is a suite of six pieces dedicated to friends of the composer who lost their lives in the First World War. Although inspired by the Baroque suites it is composed of a wide range of styles. Megumi Fujita brought out all the classical purity, sheer sensuous beauty and lush richness of the sound.

The final ovation demanded an encore when we had the great pleasure of one of Rachmaninov's Preludes. It made a fitting conclusion to an evening of the very finest piano music, all magnificently played with great charm.
West Sussex County Times 20th Oct 2011 G.T.