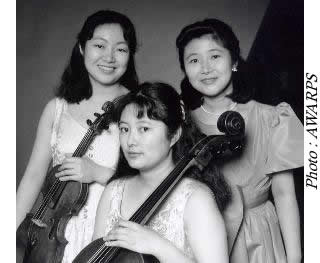 Musical Opinion (UK)
Nov/Dec 2006
Megumi's review of her Wigmore Hall 1 Oct 2006:
"The most striking feature of Megumi Fujita's playing in the Wigmore Hall on 1 October was the sheer beauty of sound she drew from the piano, always brilliantly singing yet subtly varied according to which masterpiece she performed....this was among the best recitals I've heard this year to mark the 150th Anniversary of Schumann's death"
Max Harrison

Goteborg Posten 2006
Rachmaninov 24 Preludes CD (Intim Musik)
Megumi Fujita - piano
"Ms Fujita plays it exquisitely...Fujita has a perceptive ear for the poetic virtues of this music
as well as having all the virtuosity needed to capture the stormy atmosphere in some of the preludes. "
P.G.Bergfors

Musical Opinion (UK)
Jan/Feb 2004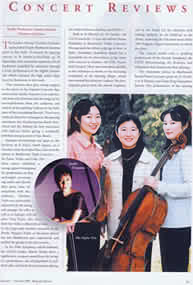 Japanese musicianship was again to the forefront at St.Johns' Smith Square on 2 October when the Fujita Piano Trio were the soloists in Beethoven's Triple Concerto for Piano, Violin and Cello. The three sisters exhibited a strong rapport throughout the performance as they exchanged encouraging smiles and shared their great sense of enjoyment with the audience. Honoka Fujita was particularly impressive in the taxing solo passages for cello, as well as in dialogue with her sister Arisa Fujita, who drew from her violin a silken lyrical tone in the Largo and the virtuosic execution in the Rondo. Megumi Fujita at the piano played her less flamboyant part expressively and unified the group in the trio sections.
Margaret Davies
Musical Opinion (UK)
Sept/Oct 2003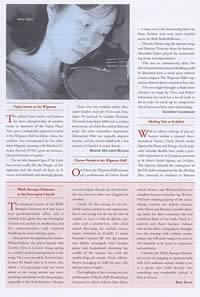 Fujita Sisters at the Wigmore
The gifted Fujita sisters, well known for their championship of modern music as members of the Fujita Piano Trio, gave a remarkably impressive recital at the Wigmore Hall on 6 June. Arisa, the violinist, was accompanied by her elder sister Megumi, opening with Schubert's C major Fantasie D934, given an immaculate performance of quality.

The six Solo Sonatas Opus 27 by Ysaÿe have never really left the fringes of the repertoire and fourth of these, in E minor, was brilliantly and movingly played.

There were two modern works. Alexander Goehr's Suite for Violin and Piano Opus 70 received its London Premiere.
The work dates from 2000 and is in three movements, of which the central Rainsong made the most immediate impression.
Takemitsu's Hika was typically impressionistic, and the recital ended with a fine account of Franck's A major Sonata.
Robert Matthew-Walker
"Imported Classical CDs 2002" Ongakunotomo-sha, Japan
and
"Record Geijutsu" (The Art of Records magazine, Japan) Nov 2001
This is an album of Toru Takemitsu's ten chamber music works recorded last December by our own rising piano trio, the three Fujita sisters. The title of the CD is "Between Tides", the last work of the programme. Incidentally, this is the only piano trio in this CD. Members of the Trio are three sisters, Megumi, Arisa and Honoka Fujita, playing piano, violin and cello respectively.
The teamwork and congeniality in the ensemble among the members are excellent. I felt they shared the common sensitivity in many points. Perhaps it is because they are particularly suited to these pieces, a fresh and pleasant performance filled with pliability and relaxation impressed me favorably. They seem to pursue even contemporary music from their instinctive point of view, without being over-obsessed with its intricate details. In other words, the Trio seems to be seeking the music that fits the hand naturally and the fresh interpretation of the way the music should be. That is probably the reason why we are drawn to it.
Each player has perfect technique. It is a fine performance with deep understanding of Takemitsu's language.

Shigeru Miyazaki (composer)

American Record Guide
Takemitsu: Chamber & Solo Piano Pieces.
Issue: Jan-Feb, 2002
ASV's splendidly-recorded program is the best collection of Toru Takemitsu's pieces for piano and piano with strings that I've heard. This Japanese composer must be played with great sensitivity and nuance, but he can't be allowed to drift off into undifferentiated mysticism--which can happen, given his iridescent Scriabinesque harmonies and the timeless, ecstatic, ineffable visions he tries to convey. Still Takemitsu's music, with its exquisitely shaped and articulated (and lovingly echoed) phrases, rigorous motive development, and clear (if sui generis) large-scale outlines, is, in its own way, extraordinarily disciplined and precise. It has both the sense of direction and logical structure too often lacking in Messiaen--however influential that grandiose Frenchman was on Takemitsu's idiom.
I emphasize this because, after hearing the Fujita sisters play Takemitsu's music with such superlative skill and understanding, I now see why I've so often been disappointed by other, less convincing performances. (I haven't heard the new recording of Paul Crossley playing Takemitsu's complete music for piano on GMN 114, reviewed last issue.) Peter Serkin, for example, is often held to be an authoritative performer of Takemitsu, but comparing Megumi Fujita's playing of Litany and Rain Tree Sketch II with Serkin's renditions (RCA 68595, Mar/Apr 1997) clarifies why I think Fujita is so much better. Serkin elongates and attenuates the music, making everything ethereal. The result is a cloying lack of variety, a self-indulgent obscuring of the form, and a dilution of emotional impact. In Rain Tree Sketch II for instance, Serkin plays the second idea--an airy, gliding theme (marked "joyful")--almost as dreamily as the more tentative, elliptical first idea. He simply ignores the subtle but unmistakable shift in mood called for in Takemitsu's score. Fujita allows the second idea to flow and sing--indeed to rejoice--so that the return to the gnomic first idea feels like a return instead of an endless circling that never goes anywhere.
As good as the Fujitas are with the five piano pieces (Romance, Pieces for Children, Litany, and the pair of works designated Rain Tree Sketch), three violin-and-piano duos (Distance De Fee, 'Hika', and From Far Beyond Chrysanthemums), and Orion for cello and piano, they are simply magnificent in Takemitsu's chamber music masterpiece, Between Tides. In this 15-minute piano trio, written three years before his death, Takemitsu truly achieved the transcendence he had been seeking for so long: to achieve a sound as intense as silence, as he put it. The final section of this trio--though the trio must be heard complete to feel its full impact--is as heartbreakingly beautiful as anything in all of music, whether of the West or of the East--or, as here, of both.
Mark L. Lehman
Diapason (France) February 2002
Review of Takemitsu Between Tides CD by Fujita Piano Trio (5/5)
Stereo image: 8/10, Definition: 8/10, Sound quality: 8/10, Dynamics: 8/10

Toru Takemitsu possessed the gift of poetry, a point that is confirmed by all the pieces of this collection. If the same language is not always present from the piano piece Romance (1948) to the trio Between Tides (1993), there is at least the same quality of inspiration, the same liberty in the evolution of music permeated by dreams, the same meditation and references to nature. This is a constant facet of this great Japanese creator.
These ten works, only two of which last more than ten minutes, are more like miniatures than "haikus", and this difference is not negligible in a musical universe that is constantly dispatching us back to French tradition. If someone insisted that Romance from 1948 was in fact an unknown Prelude by Claude Debussy, everyone would be willing believers. Distance de fee, composed three years later might bring Ravel to mind, and already Messiaen is brought to mind in the piano part of the Lento misterioso of the Litanie a la memoire de Michael Vyner, Messiaen whom Takemitsu wished to honour - in memoriam - in his Rain Tree Sketch II. And since we are on the subject of French music, would it be excessive to mention the names of Poulenc, or Satie, in connection with the delicious and malicious pieces for children (Breeze and Clouds) from 1979?
Even if there are many French references floating over this music, they are subtly interwoven with the Japanese ones; poetic sources with Shuzo Takiguchi (one of his poems is precisely titled Distance de fee), and Kenzaburo Oe (whose description of a tree's abundant foliage retaining raindrops for hours, was the source for the Rain Tree series).
Japanese musicians are at work to communicate this music. The three Fujita sisters are tender, dreaming, delicate and know how to preserve the simplicity of a very pure and natural art.
Claude Samuel

Repertoire (France) January 2002
Comparing Takemitsu CDs by Fujita Piano Trio (9/10) and Ensemble 2e2m directed by Paul Mefano (8/10)
Dead leaves and rain have returned with autumn. And this is no joke; so have the recordings of Takemitsu's soaken works. It is not a joke, besides, he wrote it himself: "From far beyond chrysanthemums and November fog". Naturally we are all a year older in our bones and particularly in our ears, which, through those recurrences as regular as the tide, "Between Tides", "see" how the memory of a recently departed master evolves.
Paul Mefano, who is experimenting an excellent personal autumn, has chosen, with the excellent Ensemble 2e2m, an asserted, even turbulent if not stormy Takemitsu, where all these pieces with rain or water in their titles gather an astonishing depth. It is nearly a case of reverse usage, all the more so since the nuance of the Japanese is the product of a claimed French influence, and is heralded by Mefano in his role as composer, leader and citizen of our four cornered hexagon country.
aaaaaaWe sometimes come close to Takemitsu-Janus II, composer of film music, that is to say the cinema one, the one using effects (and we should not attach too quickly the adjective "easy" to this word!). This opinion is very easy to defend and can reveal that Mefano also desires to put on a great act. He has developed a taste for real (musical) life, since his harmonization of Waldteutel. He, who has served the contemporary for so long, perhaps craves to escape its ghetto, unless audacious as he is, he only wishes to take the contemporary out of its ghetto. It is part of the current trend.
The Takemitsu of Fujita Trio, whose playing is as delicate as a trinket, manages the rather Japanese paradox of being more French than Mefano because it is more intimately Japanese and perhaps, Takemitsuimian. Its subtle programme covers the complete work, from student to the master acclaimed by everyone. One can compare the Rain Tree Sketch from 1982, gracious, nostalgic, with the composition dedicated to Messiaen, ten years later, painful, essential. One will even discern an inclination towards the second Viennese school in Orion, commissioned by the Austrian radio.
We will also discover, with great interest, the very melodious Piano Pieces for children, following the example of Helmut Lachenmann's Kinderspiel, opening up new piano horizons to young people, to enthusiasts of all ages and their teachers.
Jean Vermeil
The Strad, September 2000 (review of The Fujita Piano Trio Purcell Room concert)
"The concert was enjoyable, the three players - Arisa on violin, Honoka on cello and Megumi on piano - proving to be accomplished musicians who chose to play the whole programme from memory.
The concert opened with Judith Weir's Piano Trio (1997), a work in which all three parts seem equally important. The first movement pitted a solo line against a two-voice accompaniment, giving all three players a chance to demonstrate their ability, while the second was more animated. The third movement made use of imitative textures, evocative in places of both Faure and Bach, the trio adapted well to both styles.
In the first movement of Beethoven's 'Archduke' op97 the triumphant passages and more intimate moments were equally well captured by the trio, the sisters using their excellent range of dynamics to good effect. The Fujitas showed real ensemble in the Scherzo-Allegro second movement, while their rhythmic precision was highlighted in the finale.
Ravel's A minor Piano Trio is a virtuosic work and seemed ideally suited to this group.
The players showed good use of dynamics throughout, with a crescendo to fortissimo in the third
And fourth movements that almost shook the auditorium"

Musical Opinion, Spring 1999 (review of The Fujita Piano Trio Wigmore Hall concert)
"Takemitsu's Between Tides, composed in 1993, was the high point of the evening. All three sisters were completely at one with each other, able to convey the programmatic nature of the work so that we could hear the ebbs and flows of the tides which at points created a suspenseful tension, offset at others by a calm, almost ethereal mood. The final work of the evening, Tchaikovsky's A minor Trio, was a tour de force in all respects. The opening pezzo elegiaco contained some spine-tingling moments..."

The Strad, June 1999 (review of The Fujita Piano Trio Wigmore Hall concert)
"The Fujitas' rendition [of Takemitsu's Between Tides] was subtly coloured and beautifully nuanced, but it paled in comparison with their marvellous Tchaikovsky Trio in A minor op 50. A difficult work to pull off with conviction, the Fujitas rose to the challenge. The episodic Theme and variations second movement shone."