News


16th September 2017
Honoka and Megumi gave a lecture recital on Rachmaninoff at Kyoto's Horikawa Music High School on 1st September.
Along with Vocalise, 5 Preludes (nos 1, 2, 6, 23, 24) and the Cello Sonata, we played the beginning of the 2nd Piano Concerto and the famous 18th Variation from Var on the theme by Paganini with Honoka's cello accompaniment!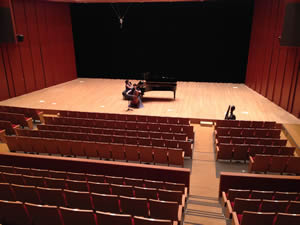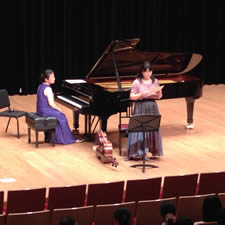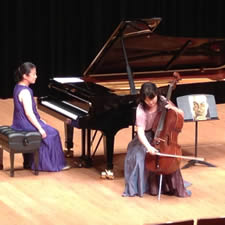 2nd August 2017
Review from our St John's Smith Square, London concert on 23rd July:
The final part of the concert featured the Fujita sisters Arisa, Honoka and Megumi, who together make up the Fujita Piano Trio.
Initially, Megumi gave a solo performance of three of Chopin's most popular Etudes (Black Keys, Thirds and Revolutionary) in which she balanced power and richness of sound with a wonderful delicacy of touch.
Joined by her sisters, the trio performed Mendelssohn's Piano Trio in c minor, entirely from memory, which made for an intensely musical and impressively concentrated performance, and thrilling close to a most enjoyable concert and a wonderful musical birthday tribute to Neil Chaffey.

(Frances Wilson, The Cross-eyed Pianist)

2nd June 2017
A review of Megumi's Chopin 24 Etudes CD:
The greatest piano studies of all time.
As Frédéric Chopin was also a pianist, he studied the piano extensively. Unlike his friend Liszt, he, as a concert pianist, disliked large venues and big audiences. He preferred performing at intimate surroundings.One will recognize such differences when listening to the newly released CD (Intim Musik label) of Chopin's etudes op.10 and 25 performed by Megumi Fujita, widely known around the world as a chamber musician in a piano trio with her two sisters.
What I mean is, that these pieces are usually a showcase for how technically brilliant, strong, fast and skilled a young pianists can execute the Chopin's etudes. Fujita has totally different attitude to this, as shown from the very first Etude, op. 10 No. 1, in C major.
She has all the technique required of a modern pianist to play at any speed, but she refrains from getting praise this way. With wonderful touch and remarkably controlled dynamics, and perfect mix of the classical and romanticism born out of Chopin's heart (Chopin loved Mozart's music!), she takes the tempo at a slightly slower pace, with tenderness and butterfly's touch, thus drawing the music away from the earth shattering fast-paced virtuosi.
With the risk of misunderstanding, I would like to call Fujita's interpretation feminine in the very best meaning of that word.I cannot pick "best tracks" in this collection. Everything is so good. A personal musical favourite among them is Etude Op.25 No.1 in A flat major. Do listen to the CD in the record shop – and I am sure you will love Megumi Fujita's way of playing and her interpretation of Chopin.

Recording quality is of the highest standard as well as the photos, the booklet and the elegant notes for the music as usual from Intim Musik, is pleasure to the eye and contributes to the overall experience in the most favourable way.
P-G Bergfors
Translated from original Swedish
20th March 2016
A review of our concert on 8th March at Cockermouth, Cumbria is here.
'The Fujita Piano Trio have played for Cockermouth Music Society before, but never to greater effect than in their recent concert in the town.
This can only be described as a stunning performance by three Japanese sisters who play from memory which in itself is a feat, but it comes completely naturally from these three great musicians. The empathy which flows between them and their innate musicianship is woven together to produce a performance of the highest standard. Megumi Fujita is a formidable pianist whose power is quite extraordinary, but she can also play softly and with great sensitivity.
The Haydn Trio in C sparkled and sang-joy personified in music. Then followed a memorable performance of Ravel's great A minor Trio, with some tremendous moments of power contrasted with moving beauty. Arisa Fujita's violin sang out with great clarity whenever needed, beautifully complemented by Honoka Fujita on the cello and always backed by Megumi's incredible piano playing. A rarely heard but very fine Beethoven Trio Op 70, No 2 in E flat completed the evening, with a deeply satisfying performance in every sense from a world class trio who we were so lucky to hear at the height of their powers.'
23rd May 2015
Our interview on Tchaikovsky Piano Trio (along with other Trios and experts)
has been printed on June issue of the American 'Strings' Magazine!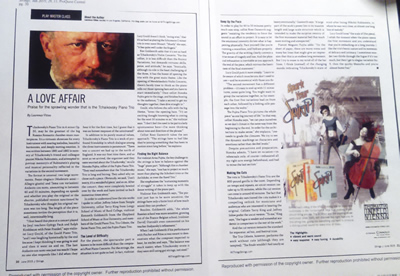 Strings Magazine is available to purchase online (worldwide) from:
http://store.allthingsstrings.com/collections/back-issues/products/no-242-june-2015
7th October 2014
Review of our concert at South Holland Centre (Spalding, Lincs) on Spalding Guardian!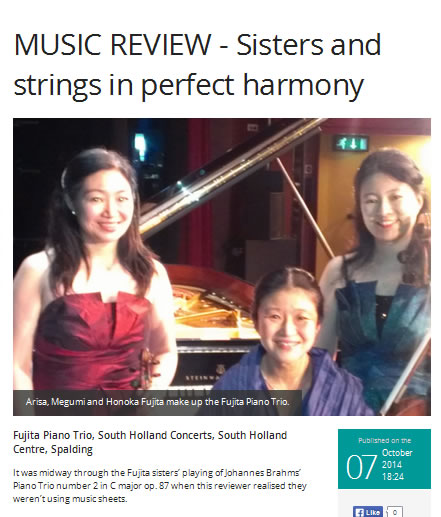 29th July 2014
Some photos from our concert at Tokyo Wangan Rehabilitation Hospital!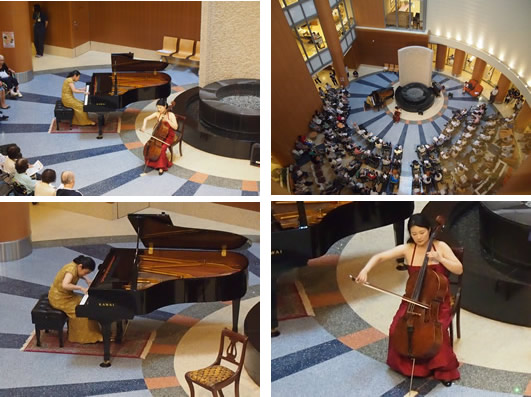 22nd April 2014
Our new Mendelssohn Piano Trios CDs has arrived!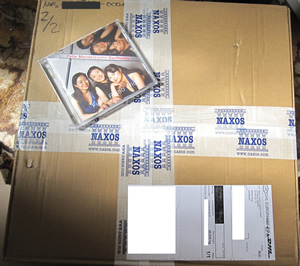 19th March 2014
Here is some photos from Megumi and Honoka's concert at Tokyo Wangan Rehabilitation Hospital on 22nd Feb: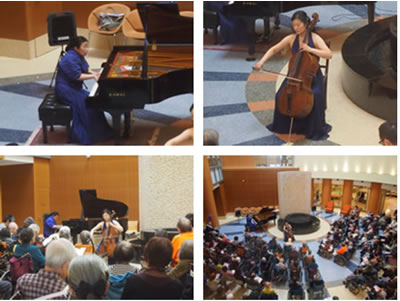 9th January 2014
Happy New Year 2014
Welcome to our new look website!

27th August 2013
Our spring Swedish tour video below!
26th October 2011
Some reviews from our recent concerts has come out.
Trio concert in Rochdale, Megumi's Horsham recital and a blog in the Guardian Newspaper from our Newcastle Trio concert.

25th April 2011
We have donated our CD sales profit (and donations from the organizers) of JPY 33,240 from our concert in Sweden to the Japan Disaster fund. Thank you Sweden!

26th March 2011
Megumi will be performing two Rachmaninov Preludes
for the Japan Crisis Appeal concert on Thursday 14th April (7:30pm) at the St John's Smith Square.

4th Novembeer 2010
Megumi's second disc is out now!
Listen at Classiconline

22nd December 2008
New Dvorak 'Dumky' Piano Trio/Smetana Piano Trio CD is coming out soon!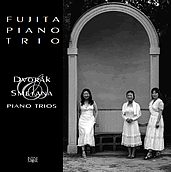 5th March 2008
Uploaded photos from the Kyoto Barocksaal prize giving ceremony on Photos page!
7th February 2008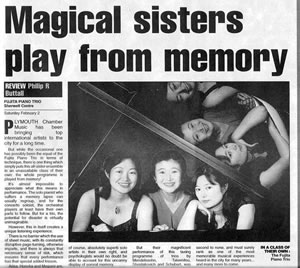 CONCERT REVIEW from
THE HERALD (Plymouth)

Fujita Piano Trio
Sherwell Centre, Plymouth 02/02/08

Magical sisters play from memory
Plymouth Chamber Music has been bringing most of the top international artists to the city for a long time. Whilst the occasional artist has possibly been the equal of the Fujita Piano Trio in terms of technique alone, there is one thing which simply puts this all-sister ensemble in an unassailable class of its own: the whole programme is played from memory!
It's almost impossible to appreciate what this means in performance. The solo pianist who suffers a memory lapse can usually regroup, and for the concerto soloist, the orchestral players at least have their own parts to follow. But for a trio the potential for disaster is virtually unimaginable.
However, this in itself creates a unique listening experience. There is no barrier which the use of music, with its constantly disruptive page-turning, otherwise imparts, and moreover there is always that necessary sense of risk which ensures that every performance has that special added frisson.
Arisa, Honoka and Megumi are, of course, absolutely superb solo artists in their own right, and psychologists would no doubt be able to account for this uncanny display of sororal memory. But their magnificent performance of this taxing programme of trios by Mendelssohn, Takemitsu, Shostakovich and Schubert, was second to none, and must surely rank as one of the most memorable musical experiences heard in the city for many years to come.
27th January 2008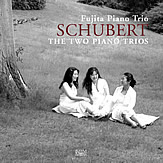 Our 6th CD (4th Trio CD) Two Schubert Piano Trios has come out!
5 out of 5 by P-G Bergfors of Goteborgsposten (Swedish daily newspaper)
CELESTIAL SCHUBERT
"Such riches, such a gift! The two Schubert Piano Trios for the first time on the same maxed out CD, in a luminous, well balanced recording. And the way these three Japanese sisters are playing! Their skillful phrasing, their sensitivity to the Schubert intimacies, their natural choice of tempi, their obvious dexterities in the musical details without loosing any sense of spontaneity (which I suppose comes from the fact that they play concerts and record from memory, i.e. without sheet music in front of them)
The feel of this recording is as it was a live recording by Schubert in two of his most blissful chamber music works. The interpretation of the slow movements is better than any recording I can remember. And their frisky playing in the concluding movements of both trios is uplifting."
P-G. Bergfors (Goteborgsposten 18/12 2007)

25th January 2008
Fujita Piano Trio has won the Aoyama Barocksaal Prize 2007!
Details (in Japanese) here: Kyoto Aoyama Memorial Hall

22nd May 2007
Ravel Trio 1st & 2nd movement live from the 19th May concert is on Podcast from Dartmouth Festival Website!
3rd February 2007
Uploaded photos from Hyogo Performing Arts Centre (Japan) concert in Nov 2006 on our Photos page!
4th January 2007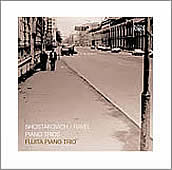 Happy New Year!

Our latest CD of Shostakovich Trios No.1 & 2 and Ravel Trio is coming out very soon.

Details on our CD page!
2nd December 2006
Megumi's review of her Wigmore Hall recital came out!

"The most striking feature of Megumi Fujita's playing in the Wigmore Hall on 1 October was the sheer beauty of sound she drew from the piano, always brilliantly singing yet subtly varied according to which masterpiece she performed....this was among the best recitals I've heard this year to mark the 150th Anniversary of Schumann's death"
Musical Opinion Nov/Dec 2006 Max Harrison

28th March 2006
Megumi's review of her Rachmaninov CD came out!
"Ms Fujita plays it exquisitely...Fujita has a perceptive ear for the poetic virtues of this music as well as having all the virtuosity needed to capture the stormy atmosphere in some of the preludes. "
Goteborg Posten 2006
31st October 2005
All three of us have been featured in the Musical Opinion Magazine!
Megumi (May/June 2005), Arisa (July/Aug 2005), Honoka (Sept/Oct 2005)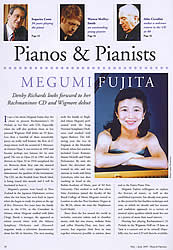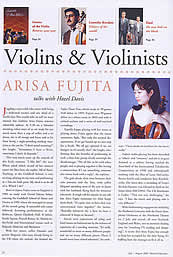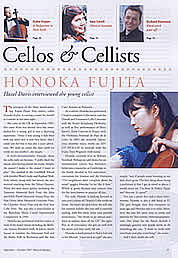 2th October 2005
Megumi's review of the June Wigmore Hall recital came out!
"...solid technique and beautiful touch. The most magical aspect of her playing was the endless variety and nuance of colour which she searched for and extracted out of her instrument....bewitching tonal palette..." (Musical Opinion Sept/Oct 2005)
8th April 2005
Arisa's new CD, Ysaye Six Sonatas for Solo Violin is out on Swedish label, Intim Musik!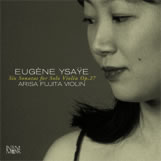 1st February 2004
Found the review of our Beethoven Triple concerto concert (Oct '03 at St John's) in Musical Opinion magazine!
8th September 2003
Arisa and Megumi's Wigmore review is out! Check reviews page!
"...remarkably impressive recital..."
26th August 2003
We have updated the CD page. Now you can sample some tracks from our latest Tchaikovsky / Rubinstein CD!
28th July 2003
Our Tchiakovsky CD is OUT!