・CD Chopin 24 Etudes Op 10 & Op 25 レーベル:スウェーデン INTIM MUSIK 2016年11月 録音

「このCDのどこがどのように優れているか。それをくどくど説明するまでもないだろう。CDを一聴すればすぐにわかることだから。」 

青澤 唯夫 ライナーノーツより 

「一流の演奏による最高傑作を集めたこのアルバムから、"最高の1曲"を選び出すことはできない。すべてが実に素晴らしい。... ぜひ店頭で試聴していただきたい ――きっと藤田めぐみのショパン演奏の虜になるだろう。」

Kammer Musik i Lerum スウェーデン 音楽評論家 P-G ベリフォシュ
Op.10 No.2, No.5-7 2017年10月 スウェーデンでの全曲演奏会より
Op.25 No.5 & No.6 2017年 9月 日本ショパン協会第278回例会での全曲演奏会より
(於 カワイ表参道「パウゼ」)
---
Letter from the late Vlado Perlemuter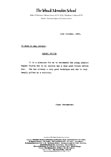 13th October 1983
To whom it may concern
It is a pleasure for me to recommend the young pianist Megumi Fujita who in my opinion has a very good future before her. She has already a very good technique and she is very deeply gifted as a musician.
Vlado Perlemuter
---
Letter from the late Lord Menuhin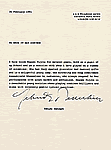 25 February 1991
To whom it may concern
I have known Megumi Fujita for several years, both as a pupil of my school and as a musician with whom I have played on a number of occasions. She has very special pianistic and musical gifts and is a delightful young lady. Her sincerity and deep commitment communicate themselves to audiences, who always respond to her performance with great warmth and enthusiasm. Megumi Fujita is a remarkable young musician whose playing combines brilliance and drama with intensly poetic lyrical qualities.
Yehudi Menuhin
---
Letter from Simon Nicholls
29th May 2019
Megumi Fujita is a pianist of high artistic achievement, who communicates in her playing insights of rare significance. In her performances her artistry is always supremely at the service of the music and the composer; a strong interpretive personality creates a sense of communication with each member of the audience.
Simon Nicholls
---
Japanese Ongaku Gendai Magazine Article
(English Translation)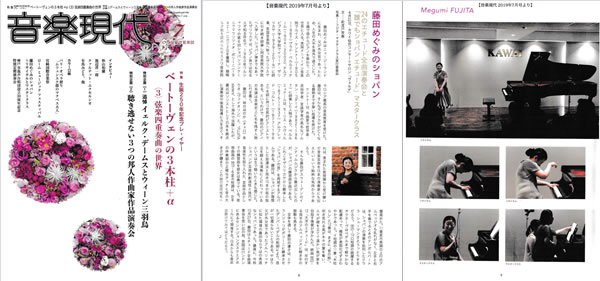 "Ongaku Gendai" Magazine July,2019
Chopin by Megumi Fujita
Complete 24 Chopin Etude Recital
and 'Chopin Etudes for everyone' Masterclass
(at Kawai Sendai, Concert Salon "Verde" on 21st April, 2019)
Megumi Fujita was born in New Zealand and spent most of her life in various countries because her father was a diplomat. She started learning the piano from her mother at the age of five and entered the piano world. She studied under Louis Philip Kentner (1905-1987), Vlado Perlemuter (1904-2002) at the Yehudi Menuhin School in the United Kingdom, and Irina Zaritskaya (1939-2001) as a post-graduate student at Tel Aviv University in Israel.
And when Zaritskaya moved to the Royal College of Music in the United Kingdom, Fujita continued her post-graduate studies at the Royal College of Music to follow her professor Zaritskaya. Madame Zaritskaya was also a very famous "Chopinist'' who was known in the piano world. She took second place after Maurizio Pollini (1942-) in the sixth Chopin competition in Warsaw in 1960 and was recognized for her exceptional talent. Zaritskaya went on to continue to higher musical studies at Moscow Conservatory in Russia.
In other words Fujita received extensive guidance until Zaritskaya's death. For example Kentner learnt from Zoltan Kodaly (1882-1967) who was a composer, philosopher, folklorist and linguist. While Perlemuter learned from Maurice Ravel (1875-1937) and from Alfred Cortot (1877-1962 ) and he was active worldwide. So it can be said that Fujita's piano genealogy reaches the most important pianists in world music history.
Fujita was active overseas with her sisters ; Honoka on cello and Arisa on violin known as the "Fujita sisters". Recently Fujita is a soloist focusing on concerts and teaching piano in Japan. It is because of her pure heart that she wants to convey to the Japanese piano performers her musical arts and heritage from her professors.
Fujita's recent CD from Intim Musik Sweden is all Chopin études. This is an album that reproduces the sound of Chopin inherited from Madame Zaritskaya. I was deeply impressed when I listened to her live performance, Fujita was particular about Chopin's ideal fingering techniques, and in her performance I could hear the trained independence of ten fingers. She plays Chopin's etudes as a work of art in which Chopin incorporate artistic creativity, skill and music.
Etude Op. 10-6 in E flat minor in the style of nocturnal combines the precise touch and volume of the left -hand part further enhancing the artistry of this etude. "The ascending arpeggio" in No.11 in E flat major is undisturbed, and even when playing the left and right hands, her "tempo rubato" would even enchant Clara Schumann, who had criticized Chopin's performance. Op. 25-10 "the octave jumping'' in B minor was very refreshing with careful consideration not to make any unwanted noise with the pedal Etude No. 11 "Etude of the tree wilt' ' and No. 12 are exactly "pictures of sound ". The wind that blows the leaves off the trees and the scene of people raising their collars and pining for their warm homes. The final Etude, Op. 25-12 "Ocean Etude" increases the heart at of the listener in the parallel arpeggio of both hands.
Throughout her whole concert Fujita's awareness is that the sound is not muddy at all by the control of the damper pedal like that which Pollini inherited from legendary pianist Michelangeli. In a similar environment to Argerich whose father was a diplomat, Fujita's performance level of Chopin was outstanding compared to other pianists.
Finally, I want to say that Megumi Fujita will hold an all Chopin Etude concert at St. John's Smith Square Hall in London on 27th of October this autumn. It is my hope that many Japanese will go to the United Kingdom to hear the performance. As was Kawai concert salon "Verde" fair day on April 21 in Sendai Japan.
Yours Sincerely,

Dr. Tsunenori Nitobe
---